How Dettol used Newsfeed SmartApps (interactive facebook posts) to boost engagement and interaction.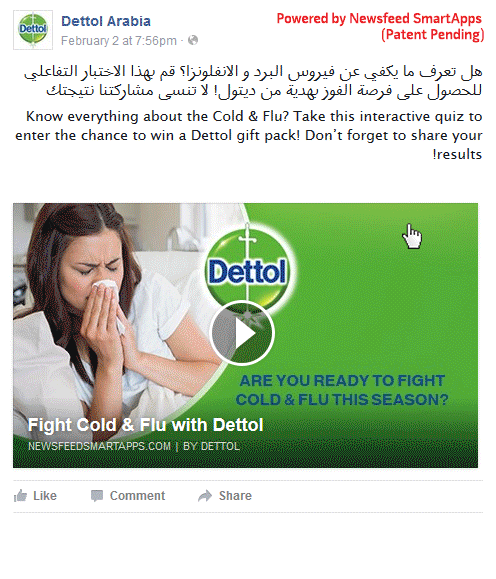 In this case study, see how Dettol used patent pending technology from Newsfeed SmartApps to creatively engage and interact with their audience on FB. Not only did they educate the audience about the cold and flu, but also got great user data (voluntarily) that they could use to send sample products or get feedback. All this was possible using Newsfeed SmartApps, that allows brands to post interactive facebook status updates that work directly in the newsfeed. View more apps here www.facebook.com/NewsfeedSmartApps and learn more at https://www.newsfeedsmartapps.com/
BRIEF
How do you educate consumers about the cold and flu? How do you bust myths and share useful, actionable and factual information about the cold and flu so consumers are better informed when they could be most vulnerable to the cold and flu?
STRATEGY
The idea was simple, the execution was through a Newsfeed SmartApp! Users had to answer common questions about the cold and flu like, "What causes cold and flu?" and in turn they learnt more about what really causes cold and flu and other related facts. Once they're done with the quiz, they can submit their details for a chance to win a Dettol gift pack. All this right in the Newsfeed!

Here's the Facebook post that has the Dettol Newsfeed Smartapp
Slideshare:
Youtube: