Newsfeed SmartApps help increase Facebook engagement.
When we were building Newsfeed SmartApps few years ago one startling metric we discovered was 71% of time spent by users in Facebook was on the newsfeed. This we estimate might have only increased to 80-85% with more users accessing Facebook via smartphones. When users are bombarded with content in their newsfeed, how do you stand out and how can you engage with your FB audience in the newsfeed and get more ROI for every post? And when you know they're not visiting your brand Facebook page, how do you engage/interact with them?
The solution lies in Newsfeed SmartApps. Think of them as a super status update or a power update. An update or a post that's not just a video or photo but something that's highly interactive and captures the users attention. Something that helps your content stand out in the newsfeed! Newsfeed SmartApp technology enables brand pages to post highly interactive content, let's take a look at some examples to understand how brands leveraged Newsfeed SmartApps to boost engagement and improve interaction with their FB audience without them ever having to leave the newsfeed!

AutoZone – Newsfeed SmartApp game where you have to match the product on the left with the one on the right and win a coupon!

Titan JUXT – In a single post Titan showcased features of Titan JUXT, had 3 videos and even had pre order via a form fill. Something that would usually take 6-8 updates and sending users to an external site for pre-orders was achieved in one post thanks to newsfeed app technology.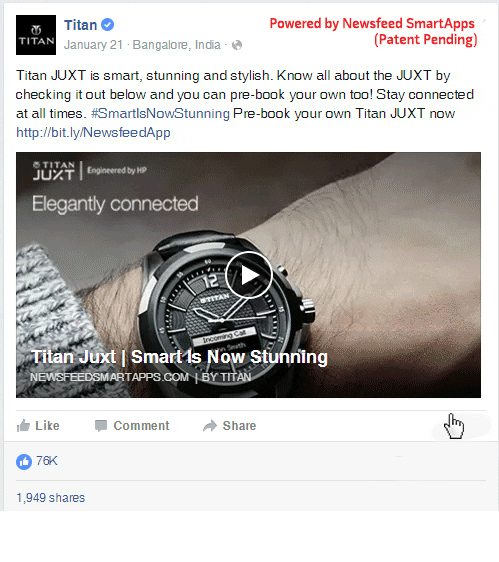 HTC 10 – Flip and match for a chance to the HTC 10. A fun and creative way to engage with users as they learn about key features of the HTC 10 smartphone!

City Centre Puzze – Solve a puzzle right in the Newsfeed for a chance to enter sweepstakes!

See many more examples and use cases on the Newsfeed SmartApps facebook page – www.facebook.com/NewsfeedSmartApps